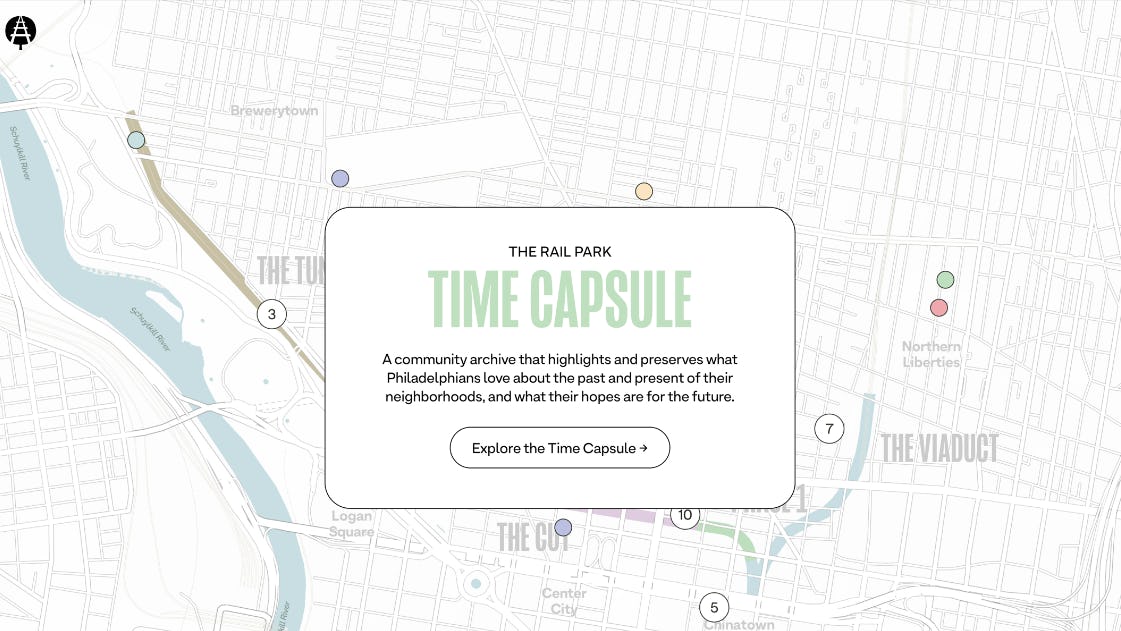 Thursday, January 27, 2022
Rail Park Time Capsule
What do you want your community to be remembered for ten years from now?
What do you hope it will look like?
Add your best neighborhood memories and moments to the Rail Park Time Capsule: a digital archive that highlights and preserves what Philadelphians love about the past and present of their neighborhoods, and what their hopes are for the future.
The Rail Park Time Capsule highlights not only the physical places in our neighborhoods that we love, but the non-physical elements that make them special, too - our shared histories, stories, memories and hopes. Check out the new Time Capsule website to browse through hundreds of submissions by Philadelphians across the city and make your own submission. Explore moments and memories submitted by Philadelphian residents using the interactive map or index features.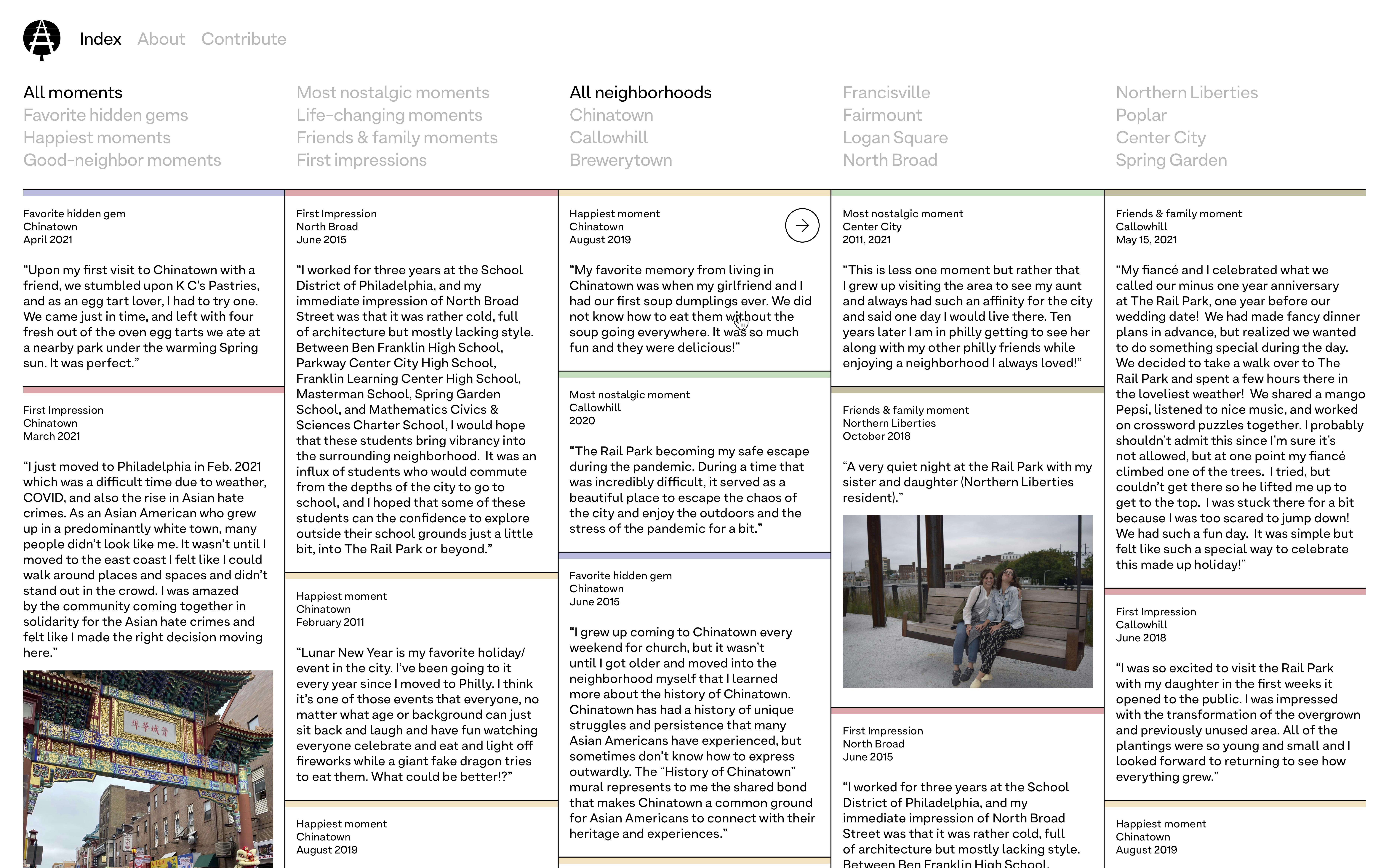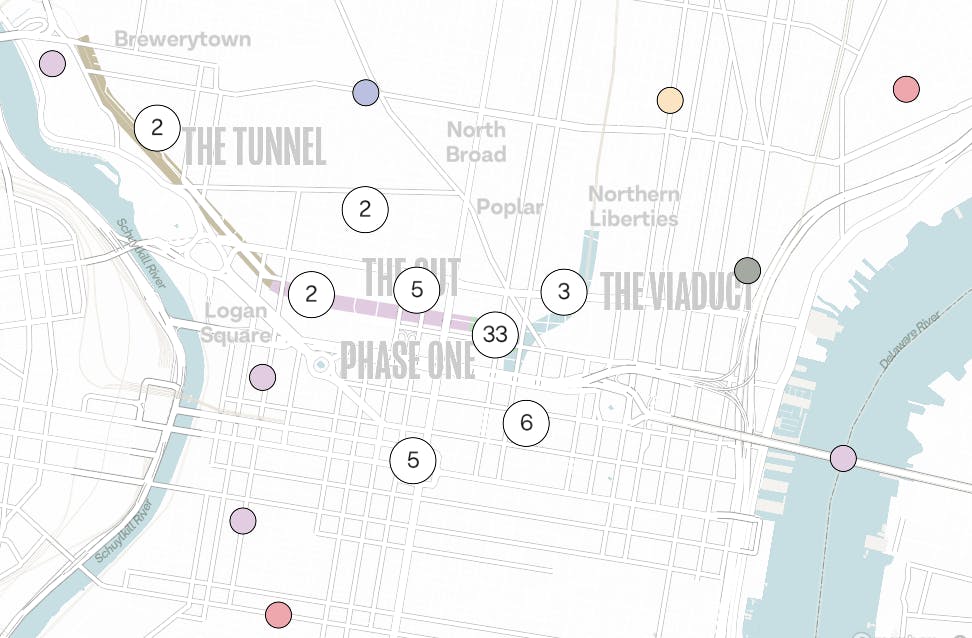 When submitting to the Time Capsule, you can select a prompt, such as: 'What is your favorite hidden gem or landmark, and why?'. You'll have the option to add your story, memory, or moment to the interactive map, which encapsulates the 10+ neighborhoods adjacent to the Rail Park.  All languages and formats are accepted. Your submission can be written, recorded, photographed, etc. - anything that you feel represents your neighborhood or community. 
Submission guidelines: 
All submissions made to the Rail Park Time Capsule are subject to publication on the Time Capsule website and other Rail Park publications. 
The Rail Park Time Capsule is open to all to share and explore. Keep your submission family friendly! Please, no profanity or nudity.
You may keep your submission anonymous, but you must provide a contact email address, so we can keep in touch with you. 
Friends of the Rail Park retains the right to remove submissions from publication. 
The Time Capsule is part of a larger effort to generate a collective vision for the Rail Park - one that uplifts the existing identities and assets of the communities the park connects, from Brewerytown to Northern Liberties. 
Submissions are collected by Friends of the Rail Park through community conversations, surveys, and workshops, with support from local organizations and partners, such as:
Asian Arts Initiative
Philadelphia Chinatown Development Corporation 
Bicycle Coalition
Philadelphia Museum of Art
FACTS Charter School
West Poplar Neighbors Association
Friends of East Poplar Playground
Fairmount Park Conservancy
Mural Arts Initiative
Philadelphia Parks & Recreation
Callowhill Neighborhood Association
& MORE
The Rail Park Time Capsule is made possible through a grant from the John S. and James L. Knight Foundation. Design and development by Folder Studio.