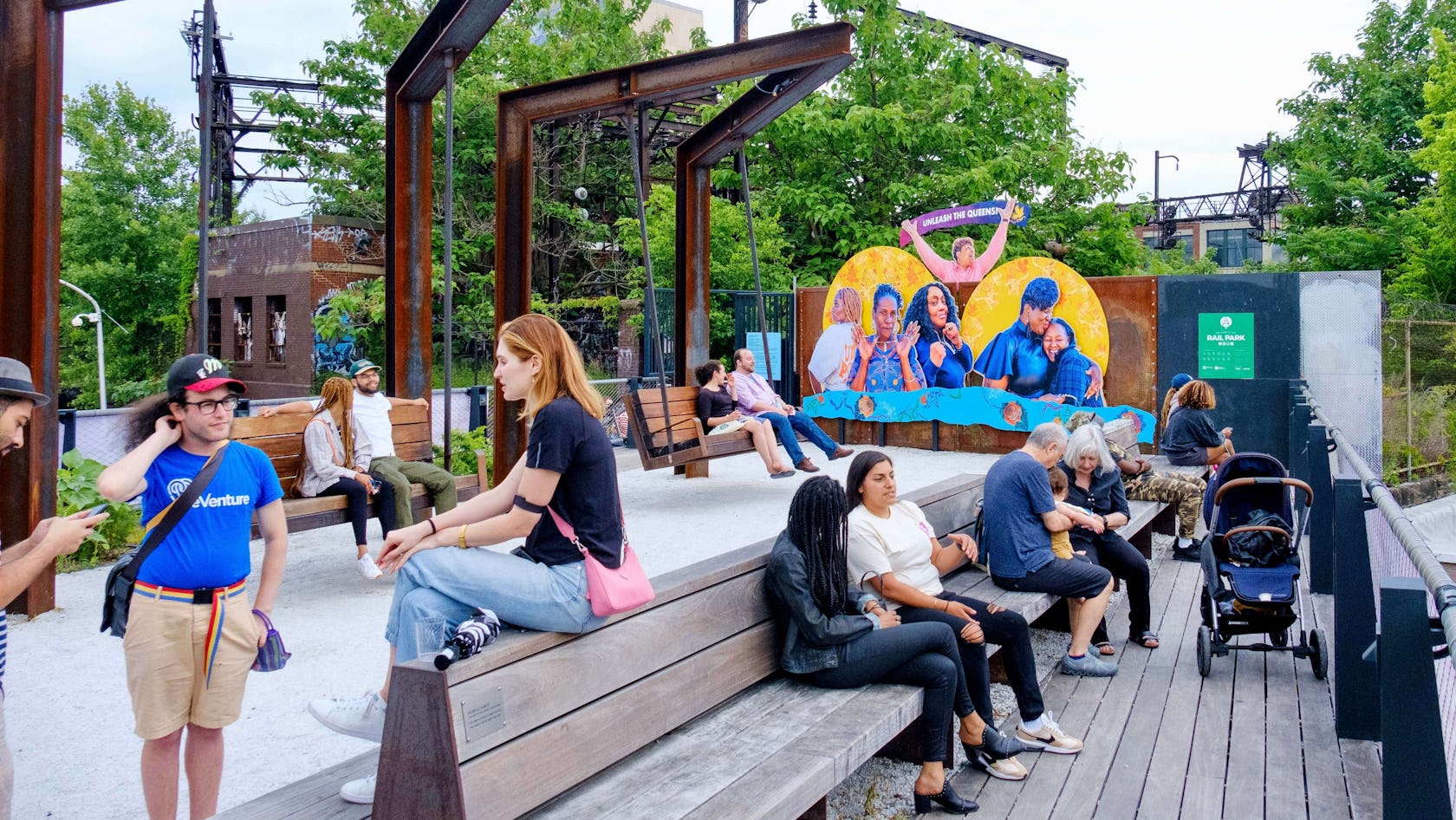 Saturday, January 28, 2023
Wrapping Up 2022: Read the Annual Report!
As we embark on a New Year, we want to take a moment to thank all of the incredible donors, Friends members, and sponsors that supported us through 2022 and into 2023.
Without your support, the work of Friends of the Rail Park would not be possible! It is because of you that we were able to host thousands of people for free programs and events, install hundreds of new native plant species, and champion ahead with our plans for Phase Two this past year. Now, we're heading into 2023 with a jump start on our fundraising efforts and exciting plans coming up. 
To learn about what we accomplished in 2022, check out our Annual Report for the year.
Thank you to our Friends members, who provide consistent support for the Rail Park through their monthly donations:
Casee Amores
Marilyn Anthony
Michael Arnst
Arthur Armstrong
Adam Bdeir
Maribeth Becker
Joseph Best
Alex Brenard
Evan Celini
Kristin & Bob Davidson
William Garrow
Susan Gettlin
Capital Ideas
Leslie Kaufman
Mark Lankford
Shari Leavitt
Dave Liao
Aubrey Lynch
Gary McNeil
Ernest Menold
Liz Maillie
Terri Marmugi
Leah McGlone
Stephen Megargee
Susan Murray
Sheneeka Ocasio
Daniel Onraet
Meg Rider
Geoffrey Scowcroft
Constance Thames
Patrick Sherlock
Mark Schwemler
Brigid Shivers
Vanessa Seah
Kevin Steinke
Debra Ward
Andrew Warkentin
Paige Yoder
Thank you to our individual donors who have contributed throughout the year:
13th Street Kitchens  
InOutsource  
Philadelphia Section of the American Society of Civil Engineers  
Elanya Abba
George J Ahern
Jeffrey Alexander
Casee Amores
Michael Arnst
Samer Badr
Graham Bier
Paul Black
Daniela Bono
Meredith Bower
Tally Brennan
Mary Broach
Katja Burke
Caitlin Butler
John Cao
Robin Chan
Kaitlin Chow
Monica Christensen
Sarah Chung
Ronald Cooley
Abe Cooperman
Beth Coppersmith
Allan Craven
Bridget Daly
Wesley Daughtry
Gustavo De Pena
Terryl Decker
Val Delp
David Devan
John William Dickey
Michael Donahue
Doreen Douglas
Phil Dumont
Ronald Dunbar
Thomas Duque
Davis Dure
Deborah Duskey
Ben Eastman
Megan Estrada
Gerald Feierstein
Michael F Fink
Eric  J Fischer
Michael Foran
Michael Ford
Andrea Foster
Kathleen A Foster
Liz Fuselier
Michael Gallaway
Gisela Garcia
Jordan Gehman
Teri Gerbec
Janet Ginzberg
Lori Ginzberg
Lawrence Gladstone
Dana Gold
Aaron Goldblatt
Janet Goldwater
Zack Goodwin
Carl Philip Greenberg
Madeline Griffin
Amy Gross
Bruce Gustafson
Daveed Guyton
David Haase
Susan Hagen
Deana Haggag
Gerald Halt
Harold Handel
Adrianna Hardaway
Debra Harris
Carolyn Healy
Bernardo Hernandez
Amy Hooper
Donald Hower
Reyna Howkins
Bonnie Hughes
Abigail Hyde, in memory of Dale
Anne Ishii
Ryan Johnson
Taylor Johnson
Frederick Jones
Paula Jones
Beth Medoway Kagan
Dennis Kane
Melissa Kapadia
Ryan Kerrigan
Rob Kettell
Kathy Keyes
Gina Kim
Patrice Kinion
Brian Kirk
Carol Knott
Hannah Kohut
Arseniy Korniliev
Michael Kovach
Christie Kroboth
Sally Kuder
Joanne Kundrat
Amy Kwasnicki
Alan Lee
Lynn Lees
Marjory Levitt
Chiong Lin
Francesca Lo Basso
Ed Lowe
Christopher Major
Sean Marr
David Mathewson
Alexandra McDonald
Mary McEneaney
Kathleen McGrann
John S McHale
Glenn Morrison
Sarah Morthland
Sheila Moussavi
Susan Murray
Juanda Myles
Heidi Nafis
Marie Nicolo
Caitlin O'Donnell
Jennifer O'Leary
Daniel Onraet
Brian Osborn
Jena Osman
Colleen Owsiany
Briana Pagliaro
Christine Penrose
Senaka Peter
Mike Peterson
Bob Pisani
Katie Pitstick
Deborah, Jason, Michael, and Marisa Pizzi, in memory of Alan Pizzi
David Prince
Richard R.Troxell
Ravi Raval
Jacob Reckford
Mark Rivinus
Harry Roth
Michael Roth
Scott & Pat Sanders
Tracie Santos
Alycia Scannapieco
Susan Schewel
Chase Schoelkopf
Jason Schupbach
Erik Schut
Esta R. Schwartz
Colleen Schwemler
Mark Schwemler
Janet Selzam
Bruce Shelly
Sonya Shiflet
Neil Shupak
Katherine Sibley
Jerry Silverman
Judi Space
Jeffrey Starker
Nanette Steffenhagen
Jeffrey Tan
Susan Teller
Vineet Thapar
Samantha Thorne
Helen L Tilgner
Thomas Trojian
Andrew Tunick
Anh Ung
Kevin Valdivia
Anthony Venne
Elizabeth Villanyi
Michael Walzman
Elizabeth Way
Joan & Dane Wells
Aleya Williams
Audrey Wood
Tom Wood
Anne Wright
Melissa Yu Dang
Gabriela Zoller
Thank you to our funders and sponsors who have provided critical support to keep our organization up and running year to year:
The 1830 Family Foundation
Comcast NBCUniversal
Fairmount Park Conservancy
Heart + Paw
The High Line Network
The John S. And James L. Knight Foundation
PECO
The Pennsylvania Council on the Arts
The Philadelphia Committee of the Garden Club of America
The Philadelphia Cultural Fund
The Philadelphia Foundation
The Pennsylvania Department of Community Economic Development
The Philadelphia Office of Arts Culture and the Creative Economy
REI Cooperative Action Fund
Republic Bank
Toll Brothers
The William Penn Foundation
We're looking forward to another great year at the Rail Park!