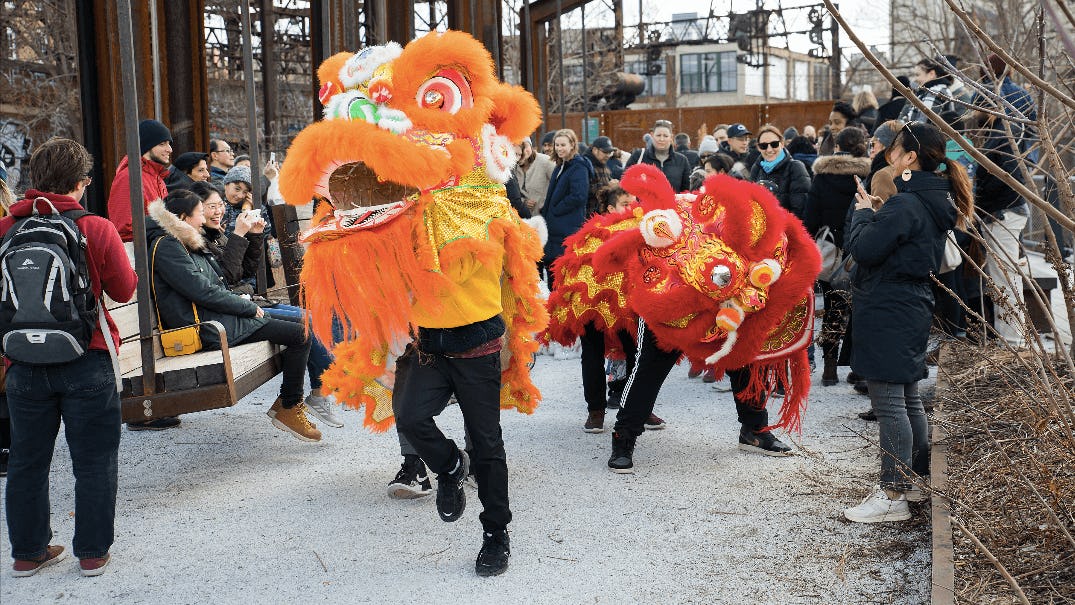 Past event
Saturday, February 5, 2022 @ 7:00 PM - 9:00 PM
Lunar New Year
Free
Please join Friends of the Rail Park, Philadelphia Chinatown Development Corporation, Asian Arts Initiative, and Philadelphia Suns in celebrating The Year of the Tiger 虎年 at the Rail Park with a Lion Dance performance, family activities, and light refreshments.
The Lion Dance performance will take place at 2:30 PM.
This event is FREE!
Mask wearing is strongly encouraged.
Know Before You Go:
*The Rail Park is ADA and wheelchair accessible.
*You can enter the Rail Park by ramp East of Broad on Noble Street, or by stairs on Callowhill Street between 11th and 12th Streets.
*The Rail Park is completely outdoors with tree cover only.
*We encourage you to wear a mask while within 6 feet of others at the Rail Park.
*Masks and hand sanitizer will be provided on site during the event.
*There are no restrooms on site at the park.
*This event is free and open to the public. 
*All activities and performances are family-friendly and all ages are welcome to participate.
*This event includes a performance by the Philadelphia Suns. The performance will include bright colorful costumes and loud music. 
*It is wintertime and it gets cold at the Rail Park! Please be prepared with warm clothing and appropriate footwear.
*If there is rain or snow in the forecast, Friends of the Rail Park may cancel or postpone the event. Please check your email on the day of the event for any updates.
If you have any questions please email ava@therailpark.org