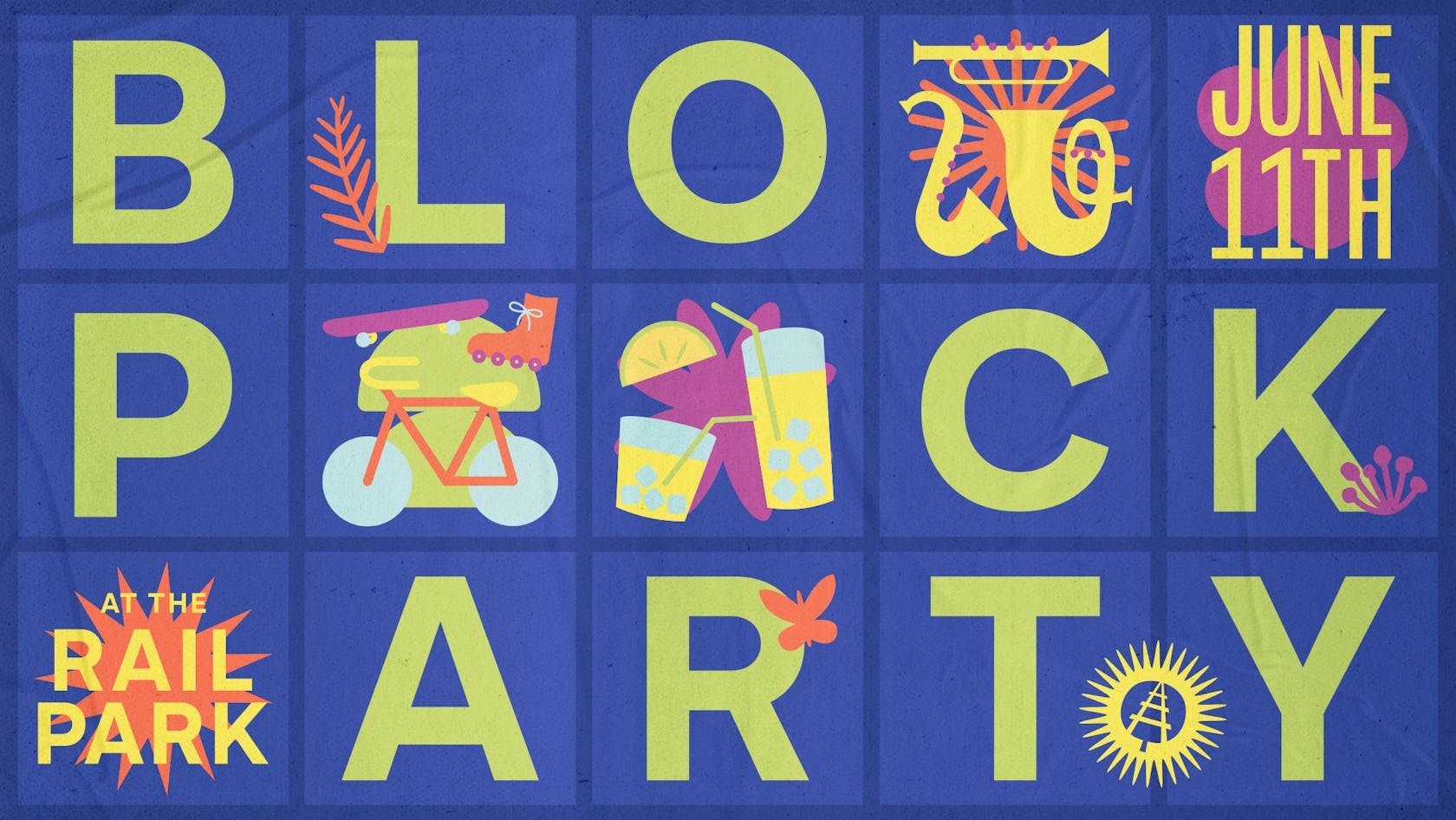 Past event
sábado, 11 de junio de 2022 @ 18:00 - 0:00
Block Party
Gratis
Join Friends of the Rail Park for the first annual Block Party, a day of community connection and celebration highlighting the 10+ neighborhoods that border the current and future Rail Park!
During this free event, Noble Street will come alive with family-friendly activities, live performances, and public displays. Come out and plant, learn, ride, dance, and play with us!
ALL DAY ACTIVITIES (2-6 PM):
Liberation Journeys Installation by People's Paper Co-op
Stoop Games
Rail Park Time Capsule Mapping
Pop Up Skatepark
Philadelphia Parks & Recreation PlayStreets
Sol Garden Wellness Experience
DJ Set + Sound Bowls
Plant + Paint 
Community Art Making
Doggie Bandana Decorating with Heart + Paw 
The Franklin Institute Mission2Mars
Neighborhood Bar + Restaurant Specials
Community Information Tables
West Poplar Neighborhood Association
Callowhill Archery
The Rounds Co.
The Block Church 
+ more
2-4 PM: Learn to ride a bike with Indego*
2-4 PM: Seed Swap with Asian Arts Initiative, Truelove Seeds, + Bahay215 
2-4 PM: Railroad History Trivia with Friends of Mathias Baldwin Park 
3-4:30 PM: Learn to skateboard with Skate the Foundry*
Lesson 1: 3-3:45 PM (6-9 y/o)
Lesson 2: 3:45-4:30 PM (10+  y/o)
4-5 PM: Cello Performance by Aijee Evans
4-8 PM: Go-Go on the Block at the Trestle Inn 
6-8 PM: Performance by SNACKTIME
*Registration required
Learn more about the Block Party offerings + participants:
People's Paper Co-op, a women-led advocacy project of the Village of Arts & Humanities, will premiere their multimedia installation, Liberation Journeys, which highlights the impact of the criminal justice system on women in Philadelphia, and celebrates their individual and collective journeys towards freedom. 
Got a garden at home or in your community? Bring seeds from your edible, ornamental, and heirloom plants to the Block Party to participate in a Seed Swap hosted by Truelove Seeds, Bahay215, and Asian Arts Initiative. You'll have the opportunity to share the story of your seeds and swap with other participants. 
Friends of Mathias Baldwin Park is popping up to share some Pennsylvania & Reading Railroad artifacts and stories. One reason they call it heavy industry: a foot of railroad rail weighs 40 pounds; one railroad tie weighs 200 pounds; two tie plates per tie at 20 pounds each; rail anchors two per tie at 5 pounds each; at least six spikes per tie at one pound each! 2800 ties per mile! Handle all of these and feel their heft. In addition, learn all about the history of the Baldwin Park neighborhood through which the future Rail Park cuts from 16th to 22nd Street.
Sol Garden Studio is bringing the Sol Garden Wellness Experience to Noble Street. Dance along to a DJ set, clear your mind with a guided meditation, or connect with the Earth during a plant potting activity.
Party under the Viaduct at the Trestle Inn! The bar will open up at 4 PM, plus a DJ and Go-Go dancers on Callowhill Street all day. 
Drop in to the skatepark on Noble Street with your skateboard, roller skates, or roller blades. Beginners will also have the opportunity to learn how to skateboard with Skate the Foundry! Skateboards and safety equipment will be provided for the lesson. To learn more and to register for the skateboarding clinic, click here.
Learn to ride a bike with Indego! During this two-hour Learn to Ride class, adults and teenagers (14+) will learn how to ride a (or remember how to ride) a bike. This class is perfect for those who haven't ever ridden a bike or haven't ridden in a long time. Bikes and helmets provided, and you can keep your helmet after class! To learn more and to register for the Learn to Ride clinic, click here.
Decorate matching bandanas for you and your furry friend with Heart & Paw. 
SNACKTIME, a Philly-based 7 piece brass band, will close out the evening with a two hour performance, from 6-8 PM. Get ready to sing and dance along to hits from all eras and genres. 
& MORE!
KNOW BEFORE YOU GO:
*In case of inclement weather, the Block Party will be postponed to Sunday, June 12, 2022. 
The Rail Park has one ADA-accessible entrance on Noble Street. You can enter the Rail Park by ramp East of Broad on Noble Street, or by stairs on Callowhill Street between 11th and 12th St. The Callowhill entrance requires using stairs. 
The Rail Park is completely outdoors with the tree cover only.  We will provide canopies that will offer shade and relief from the sun while it's still out. We recommend dressing appropriately for the weather, with comfortable and protective clothing.
Masking is strongly encouraged within six feet of other people. We will have protective face masks and hand sanitizer available at the park. 
There will be port-a-potties on-site for public use
There will be an acoustic performance from 6-8 PM. We recommend bringing ear protection if you are sensitive to sound. Additionally, we will provide earplugs for anyone who needs
Please refer to our full Know Before you Go Guide for more information about how to navigate the park safely and comfortably.  
We look forward to seeing you at the park!