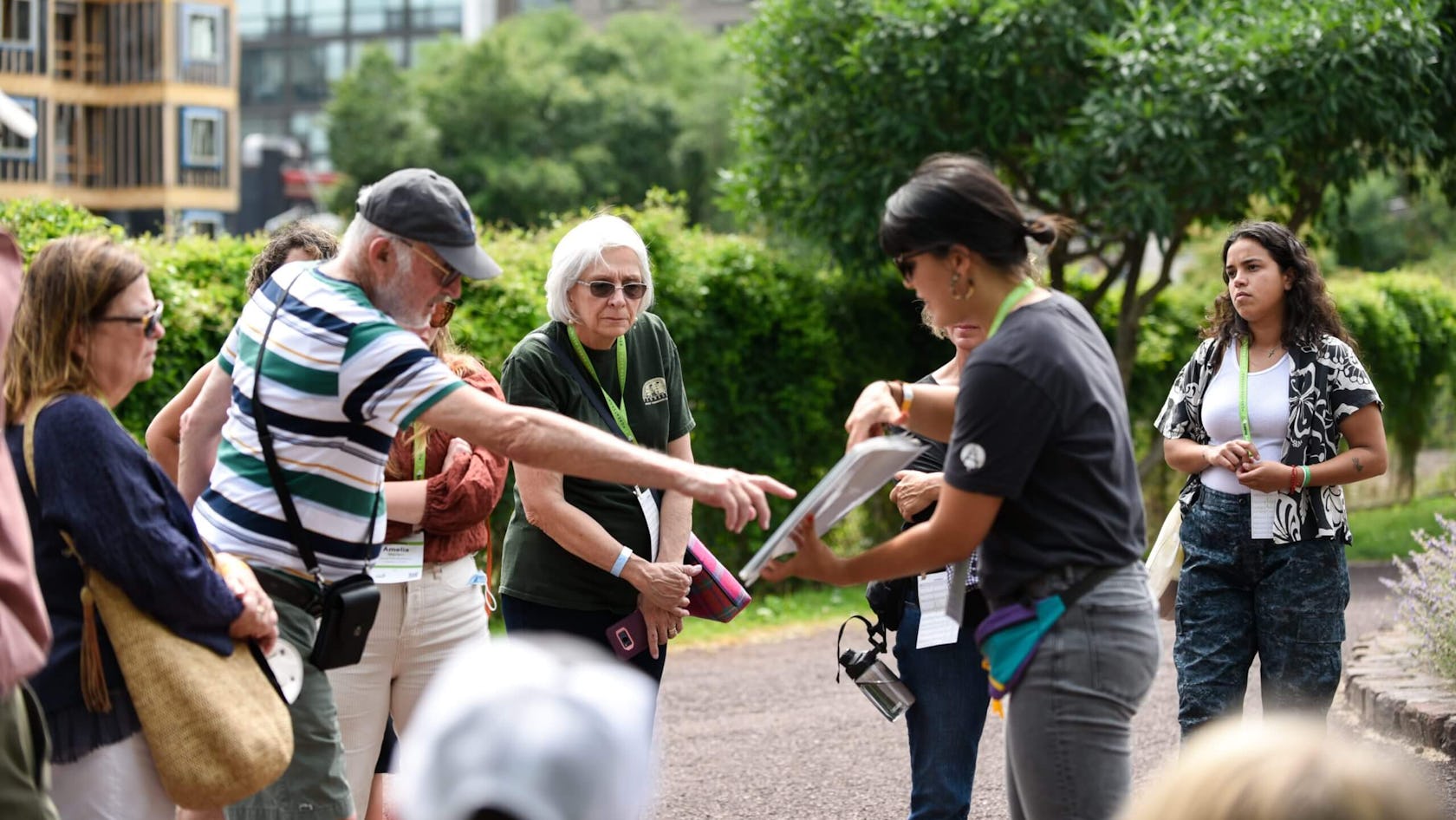 Thursday, January 05, 2023
Become a Rail Park Tour Guide!
We're seeking tour guides who are passionate about the Rail Park, Philadelphia, and their community.
Tour guides will lead walking tours of current and future phases of the Rail Park for community members, local organizations, private companies, students, and others. This position requires a commitment to learning and understanding of the history of the Rail Park and its surrounding neighborhoods. Tour guide experience and familiarity with the Rail Park are not a requirement. Training will be provided and is required. Tour guides, however, should feel comfortable public speaking and interacting with tour participants.  Tour guides will be able to create their own schedule and will be compensated for each tour given.
Training and Development
Tour guides will have to attend three mandatory training sessions and lead a practice tour. The training sessions include Rail Park 101, Inclusivity + Infrastructural Racism Training, and Tour Creation + Storytelling Workshop. These workshops are tentatively scheduled for February 22nd, March 1st, and March 8th. There will also be a virtual program overview and Q & A session on February 15th which is not mandatory but highly encourage on attending.  Guides will then create and present a tour to Friends of the Rail Park staff for evaluation. Once guides pass their evaluation, they will be eligible to lead tours. Training and check-ins will continue on a biannual basis.
Responsibilities and Duties 
Complete training and pass an evaluation
Be an ambassador of the Rail Park and Friends of the Rail Park  
Lead at least 3 tours per year 
Lead accurate, informative, and entertaining tours 
Answer attendees questions 
Attend guide meetups twice a year  
Review with any updates to training materials and project developments 
Qualifications and Skills 
Friendly and able to interact with the public 
Passionate about Philadelphia and/or the Rail Park 
Must be over the age of 16 
Comfortable Walking over 4 miles
The ability to speak more than one language is a plus
Preference for people living/working/ going to school in the 10+ neighborhoods that encapsulate the Rail Park 
Perks and Benefits
Compensation per tour plus potential for tips 
Rail Park t-shirt 
Flexible schedule 
Professional Development Training 
Meet new people in an interactive setting
Learn about the diverse history, art, culture, and nature of Philadelphia's neighborhoods and public spaces
Deadline to apply is February 3, 2023. Applicants will be notified of their application status on February 10, 2023.*
*Please note that this is the first year of this program, therefore there will be a limited number of applicants accepted for this position, based on qualifications and availability. As this program grows, there will be another call for applicants if you were not chosen this round or the timing does not work for you.